The friendliest bed and mattress store in Colchester. Open 7 days a week.
Read our story…
Browse the website to see the huge range of beds and mattresses we offer. Come in and try before you buy, or simply order online. We deliver quickly and without charge.
Peartree Road, Stanway
Colchester CO3 0JN
Map
Call us now on 01206 763009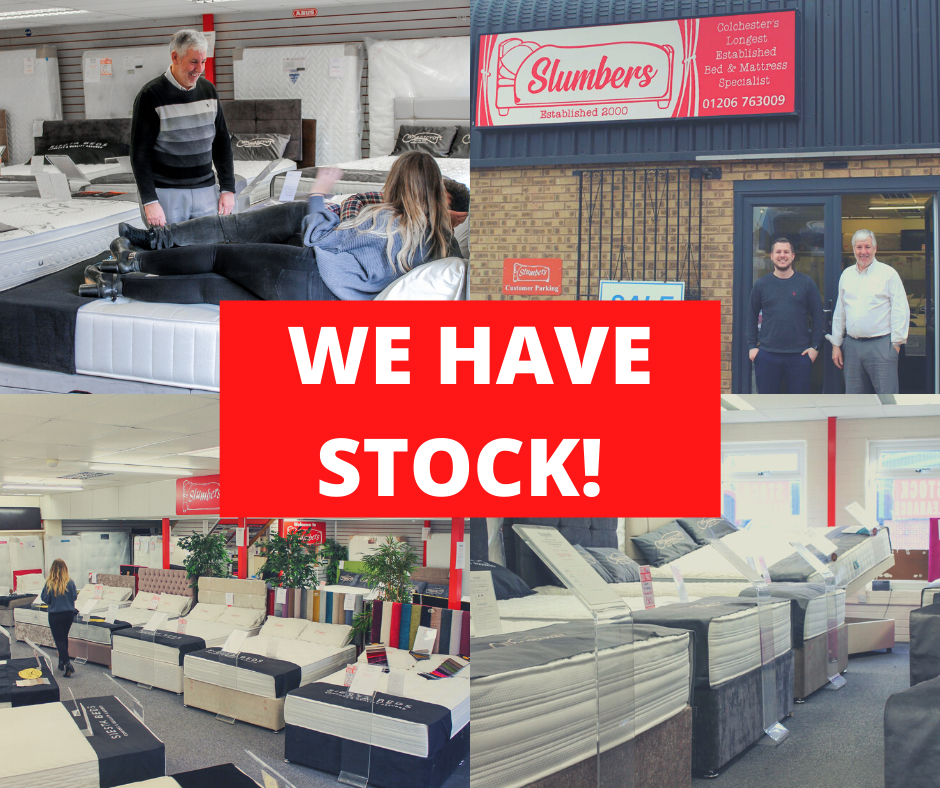 Over 20 Years Service
At Slumbers, we're independent and pride ourselves on product knowledge and great customer service.

Free Local Delivery
Beds are delivered to your room, put together to your satisfaction and all packaging taken away. Old Beds can be removed for an additional small charge.

GREAT RANGE
Lots of mattresses and beds in stock in all sizes, available for collection or quick delivery. Custom sizes can also be arranged at an extra cost.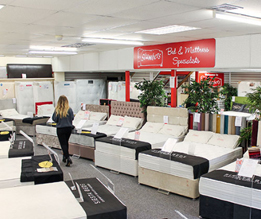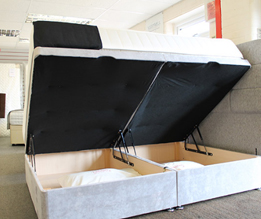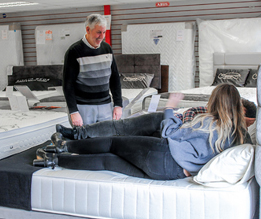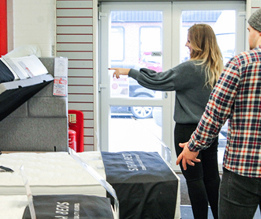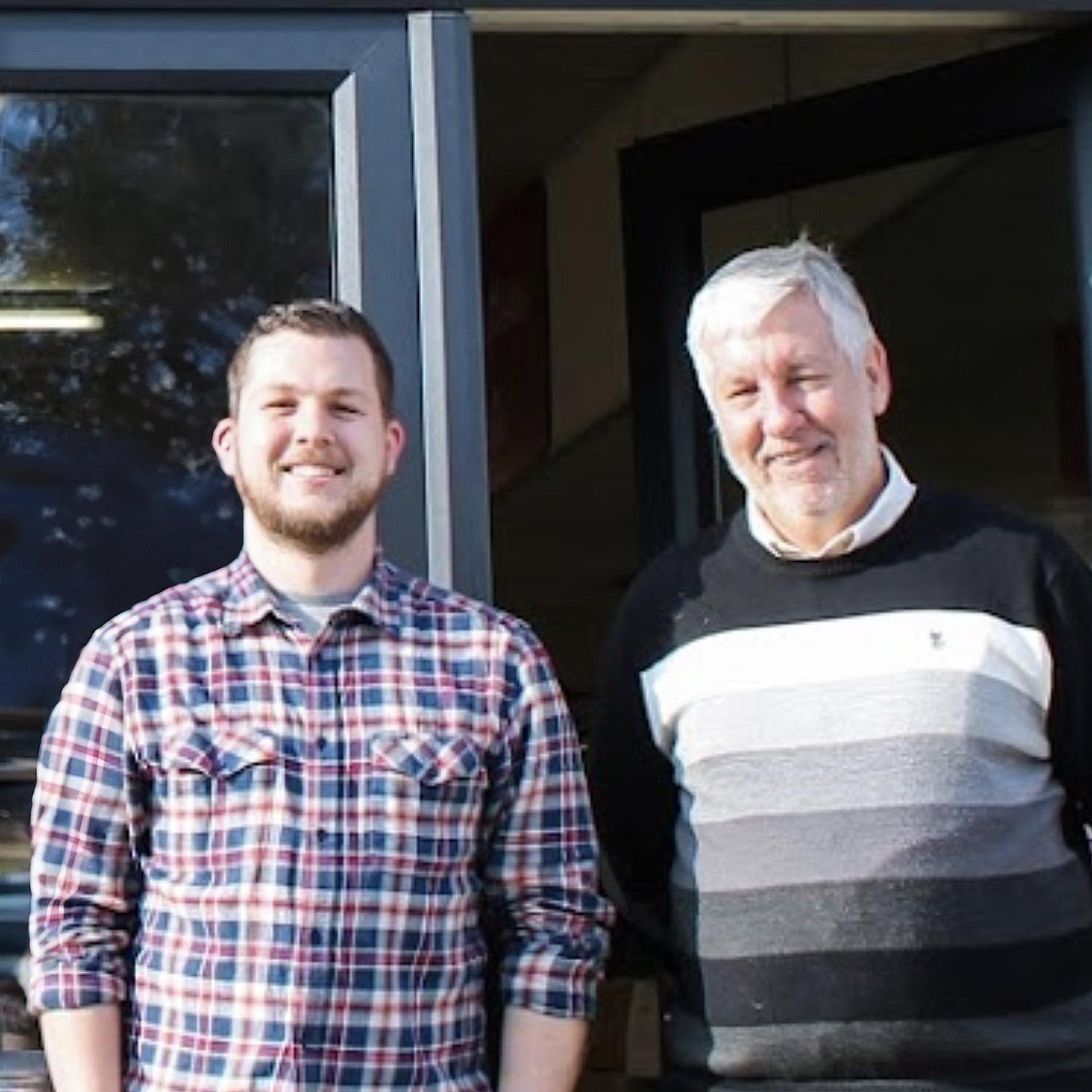 Phil and James have been in the bed industry for over 40 years. We offer an extensive range of mattresses and beds in all sizes that you can try in our showroom. Slumbers prides itself on being Colchester's longest established independent bed and mattress specialist.
Having supplied over 20,000 beds and mattresses to Colchester and the surrounding areas over the last 20 years, we pride ourselves in customer service with a smile.
We offer FREE local delivery and FREE installation of your new bed in a room of your choice.
All of our beds are British made.
Custom size beds and mattresses can be made upon request at an additional cost.
Ottomans in all sizes
A Selection of Metal Bed Frames available in most sizes
A selection of Upholstered Bed Frames available in most sizes
Headboards available in all sizes
If the item you order is in stock we will try to get the order out the same day if possible. If the item needs to be manufactured, this can take between 7-14 days.
Our delivery staff will deliver the bed/mattress to the room of your choice and assemble it with all packaging taken away (bed frames are not assembled unless arranged prior to delivery).
For online orders, Slumbers will contact with you within 24 hours to confirm a delivery date.
All delivery is FREE within a 30 mile radius. If you live further away, we can still deliver to you for a small additional charge on orders less than £600.
All colour swatches displayed are a guide and not reflective of the true colour/fabric, if you are unsure please call into the shop. Slumbers will not take responsibility if the actual colour does not match the colour exactly as displayed on the website. Slumbers reserves the right to charge a 25% handling fee on the total order amount should an order be cancelled through no fault of Slumbers.

FREE LOCAL DELIVERY

OVER 20,000 CUSTOMERS

SLUMBERS ONLINE PAYMENT SECURED
Used Slumbers services quite a few times over the last few years. Most recently for my sons new mattress. Great value for money, great customer service and delivered so quickly!
Bought out son's new bed from Slumbers. First time we had been here. The service was brilliant and they kept hold of it in storage for weeks until we were ready to pick up because we were renovating! Nothing too much trouble. Wouldn't go anywhere else now
Thank you to Slumbers for my lovely new headboard! 6 years without one and I absolutely love it! Customer Service was fab and didn't have to wait too long for delivery. If you're looking to purchase a new bed/mattress/headboard, please support this small independent business. Highly recommend 👌
Leigh Williams
2023-11-05
We had spent the day looking for an ottoman bed but didn't like the quality or ease of use of anything we had seen. On the way home we spotted Slumbers so decided to call in. We had a look round and a really informative chat with James. We tried out several beds and mattresses and were impressed with his knowledge and the quality of the beds. After checking the measurements once again to be sure, we came back the next day and ordered one. Two weeks later it arrived, put in place and together by a really efficient couple of chaps (who automatically took their shoes off without being asked, nice respectful touch). We are so pleased with it. It's comfy, easy to operate and looks great. To top it all I used my Blue Light Card discount! I would definitely use this company again and highly recommend their products and service. It's also very satisfying to support a local company.
Absolutely brilliant customer service from Slumbers. Ordered a new bed and headboard, was kept until we could have it in the room and made in the room for me. Excellent bed, headboard and expertise. Thank you.!
Brilliant quality, expert knowledge and great service from this family run business. So much better than the big chains in every way, including much better value for money. Delighted with my new mattress from Slumbers after I was left disappointed by Dreams.
Excellent service through whole experience; service and advice given in shop to support purchase was so helpful and ensured right mattress and bed was brought. Delivery was on time , with very friendly drivers and kept update to date re time etc. Highly recommend Slummers and will be returning in the future.
Just bought new a mattress from slumbers and we are very pleased with it.Service and help I got to get right one was excellent.Also delivery was quick and put on base by 2 very courteous delivery men.
The beds are excellent quality and previous beds from there have lasted very well. James was very friendly and gave helpful advice - no pressure or 'upselling' involved, he just wanted to give the best advice possible. He loves his work, which is clear to see! Team who delivered were super quick, polite and efficient, making it very painless! Excellent service overall and very reasonably priced.
Barbara Cornell
2023-08-13
Very helpful great knowledge of beds and great advice before making my choice.
We'd Love to Hear From You
We are always available by email or phone if you have any questions about our services. See below for details.